The coast of El Salvador has beautiful black sand beaches and some of the best surfing in the world. The government has redone the roads to the beach, putting signs everywhere for Surf City to build up the hype.
In the small town of Palmarcito we stayed at a super nice, family hostel called Hammock Plantation. A friendly Dutch family owns the place and have been making it a beautiful spot to relax and walk down to the beach.
Palmarcito has unique pools built onto the cliffside on the beach. During high tide water splashes over the walls and into the pools keeping them fresh. Make sure to check the tide tables and go at high tide, this visit to the beach we didn't get to go but we did make it later with some friends.
After walking up from the pools the walkway continues to a deserted beach. There was nothing on this side but sand and coconuts. We loved letting Sombrita run here, without the temptation of a restaurant she chased coconuts and had a great time.
A close by beach also had a super fun skatepark Danny took advantage of. We gave a local boy a bunch of stickers for his skateboard.
Sweating it out at the beach is fun but we are always on the lookout for cool mountain air. I found Alegria crater, one of our favorite campsites in El Salvador.
Alegria crater is so peaceful, relaxing while watching the lake was a perfect morning.
Without too many people there we decided it was a safe place to take our pets for a walk around the crater.
They both loved the mile long loop around the crater. We went in the afternoon so the sun wasn't too strong.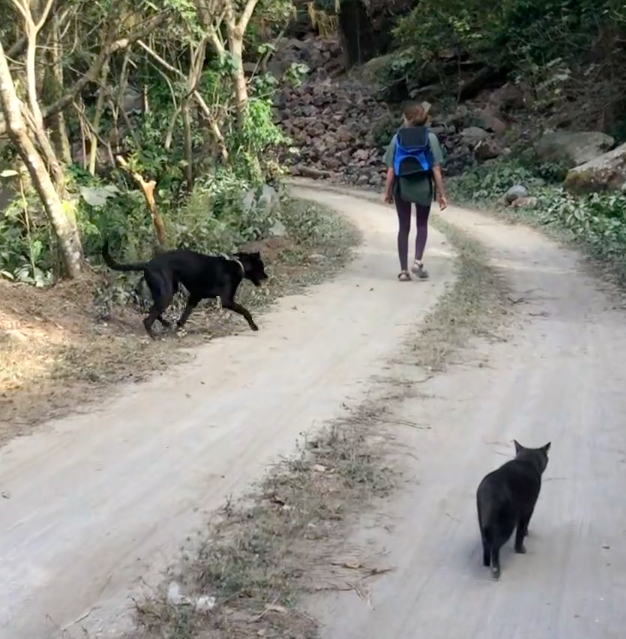 We took our time around the crater lake, watching Sombrita take laps around us and letting Graham eat up a couple blades of grass.
Graham was a house cat but acclimated to van life fast, especially getting outside with us.
Sombrita is from Baja California Sur, Mexico. She was found only a couple months old, all alone at a dump. Her name means little shadow. Since she's Mexican and I wanted to practice my Spanish more, we only talk to her in Spanish. All her tricks and commands are in Spanish. In the beginning speaking in Spanish with her helped to build my confidence.
Graham likes to take a lot of breaks so sometimes we put him in his backpack for a little break. He lets us know when he wants to walk again.
This crazy travel cat has eaten grass in 5 countries and 46 US states.
Danny was able to swim in the crater lake! It was a little too cold for me. It feels crazy to say I was cold in El Salvador, we thought we'd always be hot this far south but those mountains always call our name!

Sombrita's favorite thing to do is run, for sure. She loves when we find a field for her or go on a bike ride together. She even went for a little swim in the crater lake!
As the sun started to set we all headed back for the van, the perfect day at this cool crater lake.
We also made a YouTube about our experience, check it out!